Book Quotes & Sayings: The books are priceless and our best friend. There is no substitute for Books, and it can play a vital role in everyone's life – there are lots of textbooks on the importance of books.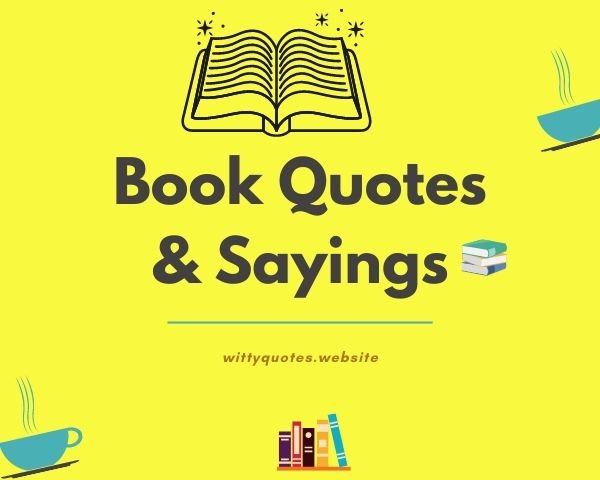 We learn a lot from Books, teach you life's lesson, and teach you about hardships, love, fear, and everything you required to succeed. So we have come up with Book Quotes About Love by great influential people.
Books are a repository of information and knowledge and play a significant role in our thinking and mental process. They make us civilized or cultured human beings. If you are a book lover, I suppose you have read a lot of books, and many of these statements will touch your heart.
READ MORE
The importance of books in our lives cannot be understated; they help broaden our knowledge and act as a communication channel to connect us globally. That is why we have gathered Beautiful Book Quotes on reading and writing.
Book Quotes
Fairy tales are more than true: not because they tell us that dragons exist, but because they tell us that dragons can be beaten. – Neil Gaiman
Classic′ – a book which people praise and don't read. – Mark Twain
Books were my pass to personal freedom. – Oprah Winfrey
Books are the quietest and most constant of friends; they are the most accessible and wisest of counselors, and the most patient of teachers. – Charles W. Eliot
Books are the plane, and the train, and the road. They are the destination, and the journey. They are home. – Anna Quindlen
Books are not made for furniture, but there is nothing else that so beautifully furnishes a house. – Henry Ward Beecher
Books are no more threatened by Kindle than stairs by elevators. – Stephen Fry
Books are good company, in sad times and happy times, for books are people – people who have managed to stay alive by hiding between the covers of a book. – E.B. White
Books are a uniquely portable magic. – Stephen King
A half-read book is a half-finished love affair. – David Mitchell
A great book should leave you with many experiences, and slightly exhausted at the end. You live several lives while reading. – William Styron
A good bookshop is just a genteel Black Hole that knows how to read. – Terry Pratchett
A children's story that can only be enjoyed by children is not a good children's story in the slightest. – C.S. Lewis
A capacity, and taste, for reading gives access to whatever has already been discovered by others. – Abraham Lincoln
A book is a version of the world. If you do not like it, ignore it; or offer your own version in return. – Salman Rushdie
A book is a garden, an orchard, a storehouse, a party, a company by the way, a counselor, a multitude of counselors. – Charles Baudelaire
A book is a dream you hold in your hands. – Neil Gaiman
Book Of Quotes And Sayings
Never trust anyone who has not brought a book with them. – Lemony Snicket
My personal hobbies are reading, listening to music, and silence. – Edith Sitwell
My alma mater was books, a good library…. I could spend the rest of my life reading, just satisfying my curiosity. – Malcolm X
Many people, myself among them, feel better at the mere sight of a book. – Jane Smiley
Libraries will get you through times of no money better than money will get you through times of no libraries. – Anne Herbert
Let others pride themselves about how many pages they have written; I'd rather boast about the ones I've read. – Jorge Luis Borges
It is is better to know one book intimately than a hundred superficially. – Donna Tartt
It is a good rule after reading a new book, never to allow yourself another new one till you have read an old one in between. – C.S. Lewis
In the case of good books, the point is not to see how many of them you can get through, but rather how many can get through to you. – Mortimer J. Adler
If you would tell me the heart of a man, tell me not what he reads, but what he rereads. – Francois Mauriac
If you only read the books that everyone else is reading, you can only think what everyone else is thinking. – Haruki Murakami
If you don't like to read, you haven't found the right book. – J.K. Rowling
If there is a book that you want to read, but it hasn't been written yet, you must be the one to write it. – Toni Morrison
I owe everything I am and everything I will ever be to books. – Gary Paulsen
I love the smell of book ink in the morning. – Umberto Eco
I have always imagined paradise will be a kind of library. – Jorge Luis Borges
I guess there are never enough books. – John Steinbeck
I find television very educating. Every time somebody turns on the set, I go into the other room and read a book. – Groucho Marx
I do believe something very magical can happen when you read a book. – J.K. Rowling
I cannot remember the books I've read any more than the meals I have eaten; even so, they have made me. – Ralph Waldo Emerson
Fill your house with stacks of books, in all the crannies and all the nooks. – Dr Seuss
Beautiful Book Quotes
Take a good book to bed with you—books do not snore. – Thea Dorn
Suddenly (we're saved!) other people are real again, and we're fond of them. – George Saunders
Some of these things are true and some of them lies. But they are all good stories. – Hilary Mantel, Wolf Hall
Sleep is good, he said, and books are better. – George R.R. Martin
Show me a family of readers, and I will show you the people who move the world. – Napoleon Bonaparte
Reading—the best state yet to keep absolute loneliness at bay. – William Styron
Reading—even browsing—an old book can yield sustenance denied by a database search. – James Gleick
Reading one book is like eating one potato chip. – Diane Duane
Reading makes immigrants of us all. It takes us away from home, but more important, it finds homes for us everywhere. – Jean Rhys
Reading is to the mind what exercise is to the body. – Joseph Addison
Reading is an exercise in empathy; an exercise in walking in someone else's shoes for a while. – Malorie Blackman
Reading is a discount ticket to everywhere. – Mary Schmich
Reading brings us unknown friends. – Honore de Belzac
Read the best books first, or you may not have a chance to read them at all. – Henry David Thoreau
Rainy days should be spent at home with a cup of tea and a good book. – Bill Patterson
People say that life is the thing, but I prefer reading. – Logan Pearsall Smith
Outside of a dog, a book is a man's best friend. Inside of a dog, it's too dark to read. – Groucho Marx
One glance at a book and you hear the voice of another person, perhaps someone dead for 1,000 years. To read is to voyage through time. – Carl Sagan
No man can be called friendless who has God and the companionship of good books. – Elizabeth Barrett Browning
No entertainment is so cheap as reading, nor any pleasure so lasting. – Mary Wortley Montagu
Goodreads Quotes
You can never get a cup of tea large enough or a book long enough to suit me. – C.S. Lewis
Writing comes from reading, and reading is the finest teacher of how to write. – Annie Proulx
Where is human nature so weak as in the bookstore? – Henry Ward Beecher
When I have a little money, I buy books; and if I have any left, I buy food and clothes. – Erasmus
Wear the old coat and buy the new book. – Austin Phelps
We read to know we're not alone. – William Nicholson
We read in bed because reading is halfway between life and dreaming, our own consciousness in someone else's mind. – Anna Quindlen
Until I feared I would lose it, I never loved to read. One does not love breathing. – Harper Lee
There is more treasure in books than in all the pirate's loot on Treasure Island. – Walt Disney
The worst thing about new books is that they keep us from reading the old ones. – Joseph Joubert
The unread story is not a story; it is little black marks on wood pulp. The reader, reading it, makes it live: a live thing, a story. – Ursula K. LeGuin
The reading of all good books is like a conversation with the finest minds of past centuries. – Rene Descartes
The more that you read, the more things you will know. The more that you learn, the more places you'll go. – Dr. Seuss
The library is inhabited by spirits that come out of the pages at night. – Isabel Allende
The best books… are those that tell you what you know already. – George Orwell
The America I love still exists at the front desks of our public libraries. – Kurt Vonnegut
That's the thing about books. They let you travel without moving your feet. – Jhumpa Lahiri
Quotes About Writing
You always get more respect when you don't have a happy ending. – Julia Quinn
There is only one plot — things are not what they seem. – Jim Thompson
There is no real ending. It's just the place where you stop the story. – Frank Herbert
There is no greater agony than bearing an untold story inside you. – Maya Angelou
The true alchemists do not change lead into gold; they change the world into words. – William H. Gass
The secret of good writing is telling the truth. – Gordon Lish
I almost always urge people to write in the first person. … Writing is an act of ego and you might as well admit it. – William Zinsser
First, find out what your hero wants, then just follow him! – Ray Bradbury
Don't tell me the moon is shining; show me the glint of light on broken glass. – Anton Chekhov
Description begins in the writer's imagination, but should finish in the reader's. – Stephen King
Always be a poet, even in prose. – Charles Baudelaire
All good writing is swimming under water and holding your breath. – F. Scott Fitzgerald
Book Quotes About Love
A short story is a love affair, a novel is a marriage. A short story is a photograph; a novel is a film. – Lorrie Moore
All that I hope to say in books, all that I ever hope to say, is that I love the world. – E.B. Whit
Anyone who has seen her smile has known perfection. She instills grace in every common thing and divinity in every careless gesture.
I love you more than I hate everyone else.
If I loved you less, I might be able to talk about it more.
Love is the emblem of eternity; it confounds all notion of time; effaces all memory of a beginning, all fear of an end.
Love is the only energy I've ever used as a writer. I've never written out of anger, although anger has informed love. – Athol Fugard
Love lets you find those hidden places in another person, even the ones they didn't know were there, even the ones they wouldn't have thought to call beautiful themselves.
Love, having no geography, knows no boundaries: weight and sink it deep, no matter, it will rise and find the surface.
The minute I heard my first love story, I started looking for you.
To love or have loved, that is enough. Ask nothing further.
Whatever our souls are made out of, his and mine are the same…If all else perished, and he remained, I should still continue to be; and if all else remained, and he were annihilated, the universe would turn to a mighty stranger.
When I saw you I fell in love, and you smiled because you knew.
Who, being loved, is poor