Vineyard Quotes for Instagram for those who love wine parties or someone who loves to sip alcohol occasionally.
Most alcoholic drinks are extracted from Grapevines that grow Vineyard, a piece of land used for plantation.
If you ever get a chance, you must explore Vineyard; you will have a good time spending around a large Vineyard area. If you are with your girlfriend, your tour becomes more exciting.
Taking a selfie with your partner, capturing memorable moments on your camera, use these cool Vineyard Quotes are the perfect fit for your Instagram post, also included Puns about Vineyard.
Must Read : Best Harry Potter Quotes From Dumbledore
Vineyard Quotes for Instagram
Does this vineyard make my cup look big?
Every person should guard the vineyard where he has been called to labor.
Exploring a vineyard is like signing up for an adult field trip that includes wine. Count me in.
Hold the bottle up to the light; you will see your dreams are always at the bottom. — Robert Hutchison
I don't think it's possible not to be smiling when you're exploring a vineyard.
I think my idea of heaven is a vineyard and endless bottles of wine.
If you enter you neighbor's vineyard, you may eat all the grapes you want, but do not put any in your basket.
Some beautiful paths can't be discovered without getting lost. — Erol Ozan
Take notes. I'm about to show you how a pro strolls through a vineyard.
There's no such thing as being lost in a vineyard. You're always in the right place.
Vineyard is my favorite V word.
Vineyards are basically field trips for adults and your ID is your permission slip.
Whatever you do, pour yourself into it. — Robert Mondavi
Wine is Earth's answer to the sun. — Margaret Fuller
Wine offers a greater range for enjoyment and appreciation than possibly any other purely sensory thing which may be purchased. — Ernest Hemingway
Winery Quotes For Instagram
Accept what life offers you and try to drink from every cup. All wines should be tasted; some should only be sipped, but with others, drink the whole bottle. — Paulo Coelho
Beer is made by men, wine by God. — Martin Luther
Either give me more wine or leave me alone. — Rumi
I like on the table, when we're speaking, the light of a bottle of intelligent wine. — Pablo Neruda
I love everything that's old — old friends, old times, old manners, old books, old wine. — Oliver Goldsmith
In wine, there's truth. — Pliny the Elder
Language is wine upon the lips. — Virginia Woolf
She loved three things — a joke, a glass of wine, and a handsome man. — W. Somerset Maugham
Sorrow can be alleviated by good sleep, a bath, and a glass of wine. — Thomas Aquinas
Wine a little, laugh a lot. — Unknown
Wine flies when you're having fun. — Unknown
Wine is bottled poetry. — Robert Louis Stevenson
Wine is one of the most civilized things in the world and one of the most natural things of the world that has been brought to the greatest perfection, and it offers a greater range for enjoyment and appreciation than, possibly, any other purely sensory thing. — Ernest Hemingway
Wine is the most healthful and most hygienic of beverages. — Louis Pasteur
Wine Tasting Quotes Funny
A good day starts with coffee, and ends with wine. — Unknown
A good man can make you feel strong, sexy, and able to take on the world… oh wait, that's wine. Wine does that. — Unknown
Either give me more wine or leave me alone. — Rumi
Home is where the wine is. — Unknown
I like on the table, when we're speaking, the light of a bottle of intelligent wine. — Pablo Neruda
I love everything that's old — old friends, old times, old manners, old books, old wine. — Oliver Goldsmith
In wine, there's truth. — Pliny the Elder
Not all girls are made of sugar and spice and everything nice. Some girls are made of sarcasm, wine, and everything fine. — Unknown
The best wines are the ones we drink with friends. — Unknown
Tonight's forecast: 99 percent chance of wine. — Unknown
Wine is the answer. What was the question? — Unknown
Wine, because it's not good to keep things bottled up. — Unknown
You had me at merlot. — Unknown
Wine Harvest Quotes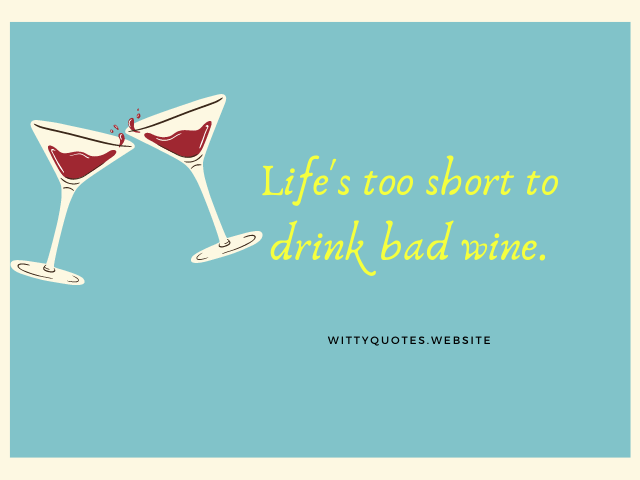 God allows us to live in the time of harvest to experience the joy of the harvest ― Sunday Adelaja
Harvest is real, but be wise to sow what you will love to reap in the new year, because your day of harvest is fast approaching. ― Bamigboye Olurotimi
Harvests are a time to remember your sacrifice. ― William Kamkwamba;Bryan Mealer
If you are too lazy to plow, then you should never expect a harvest. ― Proverb 20:4
If you have never planted, then you cannot expect a great harvest ― Sunday Adelaja
If you sow the seed of time conversion, you will reap a harvest of greatness ― Sunday Adelaja, No One Is Better Than You
It is the passion of God that empowers to reap the harvest of souls ― Sunday Adelaja
Keep expecting and believing that your due season is coming. Declare that the good you have harvested in your life will manifest. ― Germany Kent
Sow the seeds of hard work and you will reap the fruits of success. Find something to do, do it with all your concentration. You will excel. ― Israelmore Ayivor, Become a Better You
The garden of God is full of ripen fruits. ― Lailah Gifty Akita
The reaper does not listen to the harvest. ― Terry Pratchett, Reaper Man
The ripen fruit is for a sacred season. ― Lailah Gifty Akita
What are you planting today to harvest tomorrow? ― Lailah Gifty Akita
When the talent is torrential, the harvest is inevitable. ― Curtis Tyrone Jones
Why harvest before the fruits gets ripe? ― Lailah Gifty Akita
READ: Champagne Quotes FUNNY