Curly hair looks more attractive than normal hair. If you plan to make your hair a curly look, we will provide you with Curly Hair Quotes that look good on your stylish picture.
Nowadays, it becomes relatively easy to give your hair a different look. Either you can do it yourself or go to a parlor or hire and hair expert; after all, stylish hair makes your personality attractive and adds to your overall character.
Do you find difficulty in getting the right Quotes for Hair? If you ever come across an Instagram feed with a beautiful girl with gorgeous hair? If your hair is similar to them, make your hair picture eye catching by using girls with curly hair quotes, sure your pic will grab the attention.
Curly Hair Quotes
Curls are the person's own crown.
Curly girl: It's more than just hair, it's an attitude. – Lorraine Massey
Curly hair and humidity don't go together.
As a young girl, I definitely struggled with knowing what to do with my hair. I was just in a neighborhood that had mostly white people, and the hair norm was long and sleek and straight. My hair naturally was curly, and I didn't have that many references. – Jillian Hervey
Curly hair is unpredictable.
Curly hair makes you a weatherman that makes you check the weather before straightening your hair.
Curly hair with a wide sweet smile is the perfect combination of beauty.
For me, hair is an accouterment. Hair is jewelry. It's an accessory. – Jill Scott
For years I used to try to straighten my hair, but I've reached a stage where I think, 'I've got red curly hair, and it's actually really great. – Bonnie Langford
Girls with curls have attitude.
Girls with curly locks wake up like the lion king.
Having a curly hair is a noticeable physical trait.
I actually love my natural hair when it's in a twist out and it's been slept on for five days and revived by the steam of the shower. – Solange Knowles
I cried, I cried… it was such an emotional experience and it wasn't just about hair. It was what my perception of beauty was and had been for all of my life. – Teyonah Parris on going natural
I feel that the kinks, curls, or tight coils in Afro hair is beautiful and unique. No other race on this planet has hair like ours – that makes me proud. – Monica Millner
I keep my hair curly and natural because I really just wanna show who I am. – Alessia Cara
I love my hair because it's a reflection of my soul. It's dense, it's kinky, it's soft, it's textured, it's difficult, it's easy and it's fun. That's why I love my hair. – Tracee Ellis Ross
I used to be very insecure about my curly hair, because I lived in a country where everybody had blonde straight hair. – Diane von Furstenberg
I want to talk about natural black hair, and how it's not just hair. I mean, I'm interested in hair in sort of a very aesthetic way, just the beauty of hair, but also in a political way: what it says, what it means. – Chimamanda Ngozi Adichie
I was shy but it came out in a big personality. My turning point was when I let my hair go naturally. – Tracee Ellis Ross
I'm a big woman. I need big hair. – Aretha Franklin
I'm a very outgoing person. I'm always happy, I'm one of those people who are always smiling. If somebody described me to somebody else, they'd say the kid with the curly hair with the big smile on his face. I get along with everybody. – Corbin Bleu
I've always been intrigued by color and by interesting hair. I was one of those weird little girls doing my own hair at the age of 9. I was, like, getting weird gels and new brushes and cornrow holders. I would tweak and perm at the age of 13. – Nicki Minaj
It has nothing to do with me, the way I look, my hair wrap, my style, it's about you and what you feel for my music. If I can make you feel the way that people who influenced me made me feel, that's completion. – Erykah Badu
Of the small gifts of heaven/ it seems to me a more than equal share/ at birth was given/ to girls with curly hair. – Phyllis McGinley
Racism is very characteristic of imperialism and capitalism. Hate against me has a lot to do with racism. Because of my big mouth and curly hair. And I'm so proud to have this mouth and this hair, because it is African. – Hugo Chavez
Shug Avery sat up in bed a little today. I wash and comb out her hair. She got the nottiest, shortest, kinkiest hair I ever saw, and I loves every strand of it. – Alice Walker, The Color Purple
Quotes On Curly Hair
That overzealous new natural is not intentionally trying to cause you pain. She just lovingly wants her sister to know the freedom of accepting, loving and nurturing her natural hair texture. Once that level of freedom is achieved, one can truly know that we are not our hair. – Monica Millner
Can you resist touching your straightened hair?
I don't dare to color my curls blonde because I am afraid my friends will think it as instant noodles and will try to eat it.
I never color my curls blonde. My friends have a big appetite they will think of it as instant noodles and will try to eat it.
I was shy, but it came out in a big personality. My turning point was when I let my hair go naturally… – Tracee Ellis Ross
I'm a queen crowned in my curls.
In life, hair is one of the many things we can't control.
In my place, I'm the only person who is passionate, beautiful and free-minded because only I have the curly hair.
Is curly hair a curse or blessing?
Life is too short to have a boring hairstyle, so God gave me curly ones to struggle with.
Love your natural curls! Curly hair is not a trend, it's a lifestyle.
Messy hair is a visible attribute of the girl's spirit.
My curly hair is a blessing for me because it shows the attitude I have.
My curly hair shows who I am. I'm open-minded, carelessness, sometimes rough just like my curly hair.
My hair loves selfies as it takes 90% of the selfie space.
We are often told we can't have brains and beauty, and I really hope that my message is that you can put on that red lip and curl your hair and put on that power dress – you don't have to sacrifice one for the other. – Tyra Banks
When I cut my hair, the whole sound changed. – Rihanna
Willow cut her hair because her beauty, her value, her worth is not measured by the length of her hair. – Jada Pinkett Smith
Funny Curly Hair Quotes
A major struggle curly hair is just trying the same hair routine every day and still getting a contrasting result every time!
A person with curly hair when marries a person with straight hair makes an awesome combination as they will have children with well-balanced hair.
A woman with curly hair does not have to worry about hair being out of place because it really doesn't have a place.
Always getting different results after the same routine.
Anybody who has curly hair knows you don't want it to be brushed out because it becomes a never-ending tangle. Judy Davis
As a kid I was told "pretty girls have straight hair" so I was always insecure about my curly hair. Noe that I'm older, I couldn't be more in love with my crazy beautiful curls.
Big curls bigger attitude. So what!
Brushing curly hair can sometimes seem like an impossible task.
Curly hair can capture the attention but it's personality which captures the heart.
Curly hair is like a box of chocolates you never know what you're going to get
Find a partner who not only loves you but also loves your curly hair.
Happiness is… Doing curls on my curly hair with my finger.
Having curly hair some days you're lucky and some days you're not.
I don't need a relaxer, my hair ain't stressed out.
I love my natural curls! "Curly hair is not a trend, it's a lifestyle"
Naturally curly hair is a curse, and don't ever let anyone tell you different. – Mary Ann Shaffer.
The bigger the hair the harder they stare.
Love Curly Hair Quotes
Of the small gifts of heaven, it seems to be a more than equal share. At birth to girls with curly hair. Phyllis McGinley
One of the great quotes about curly hair: health is more important than looks.
People always expect more of you when you have naturally curly hair.
Right before getting in bed, you look at your hair looking just great, so you make an effort to preserve it while sleeping. The next morning, you get out and check the mirror to wonder where the lion came from.
Soft, silky curls can be the perfect pillow.
Some days curls and brush don't go together.
Stop worrying with your curly hair while styling rather let the soft breeze flow on it to take care of it.
The high volume of my hair makes me unable to hear you.
The most of the time when the curly hair looks good is right before the shower.
The time I spend on the shower is 20% taking care of my body, 60% fighting with my curly hair, 20% thinking about how life could have been easier with straight hair.
To add curls to your curly hair, you have the easiest way in the world to just sleep over it.
To make your curly hair super curly you don't need to do so much, just sleep on it and see the result.
When you have curly hair you have to pay attention to how you put your t-shirt on.
Why didn't you comb your hair- most of the girls with curly hair have heard this at least once.
Yes, I have curly hair. No, I don't wish that it was straight…
You are more patient, more courageous and have a big heart if you can wear your natural curly hair shape and be proud of it!
You can't control everything in life, and it's absolutely true when I look upon my head.
You've got to love your curls.
Your curly hair is not a radio but the volume is too loud!
Your curly hair looks like a radio with a loud volume!
Curly Girl Quotes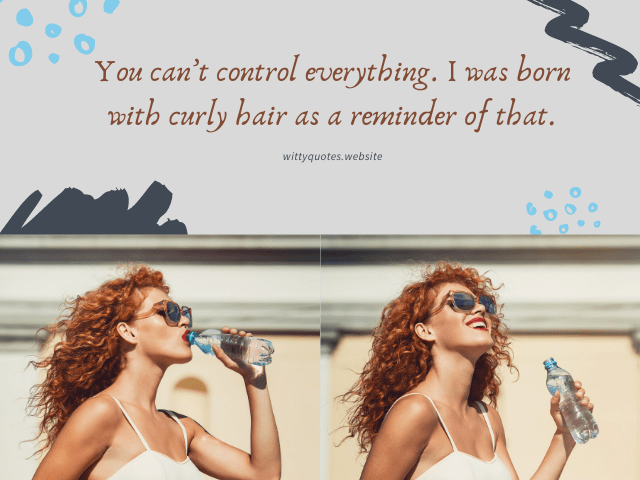 Crazy, wild, free, and that's just describing my hair
Curly hair is more than just hair it's an attitude
Curly Problem 231: Not knowing how to wear your hair to formal events because everyone else curls it
Good hair, good mood, good day
I am I supposed to control my life when I can't even control my hair
I didn't want to go out but my hair looked too good to stay in
I'll just quick jump on the shower and leave – Said no curly haired person ever
I'm a queen crowned in my curls
Life is too short to have boring hair
Never let anyone dull your curls
Problem number 342: When you straighten your hair people don't recognize you
Thank you humidity, I always wanted to be the lion king… said no one ever
The struggle of having curly hair; is doing the same hair routine every time and getting a different result, every single time
When you're hair is 90% your selfie
You think your hair is a mess but strangers say it's awesome
READ: Power Quotes (With Great Power Comes Great Responsibility